​Hydraulic Cylinders​
Hydraulic Servo-Cylinders can be used in a wide range of applications.
A careful choice of sealing elements, attention to wear parts and to the most suitable materials together with high levels of precision allow the creation of a high-quality hydraulic cylinder with optimal performance at both low and high frequencies.
The creation of such series of hydraulic cylinders can include the single or double rod version with equal areas and a hydraulic emergency braking system that protects the servo-cylinder itself.
The Hydraulic Cylinders are divided into:
Static cylinders with low test speeds;
Dynamic cylinders with low friction coefficient for fatigue tests.
Working forces can vary from 25 kN up to 7500 kN..
Cylinder strokes can vary from 100 mm up to 2000 mm..
Hydraulic Cylinders are generally composed of the following components: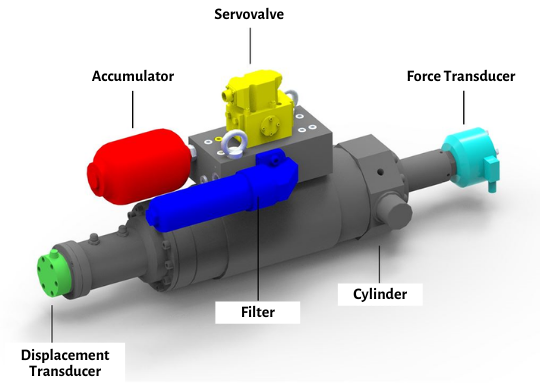 The commonly used configurations for the assembly are: